Electrical Engineering
Electrical engineering spans both electricity and electronics, which encompass a range of specialist disciplines such as power engineering and telecommunications. Electrical engineers use a broad range of tools, from simple meters to highly sophisticated analysers and leading edge design and manufacturing software.

EEMUA adds value in many areas encountered by electrical engineers. It has developed leading guidance in aspects such as the electrical safety of instruments and control systems and also offers specialised materials, training and competency certification on electrical installation and maintenance in potentially explosive atmospheres. EEMUA regularly briefs electrical engineers in its member companies on the latest legislation and regulatory developments.
Key EEMUA publications include:
EEMUA 246: Guidelines for managing ignition risk by inspection of Ex electrical equipment in hazardous areas (including support of IEC 60079-17)
EEMUA Publication 241: Guidance on the presence and operation of portable self-energised electrical / electronic devices In potentially explosive atmospheres (gas and dust)
EEMUA 227: Management of ageing electrical assets
Instrumentation and control:
The safe and effective operation of process plant and power stations relies on automation. Instrumentation and control engineering spans the systems, operator consoles and human operators who oversee all phases of plant operation, from start-up to shut-down. The effectiveness of on-line analysers can mean significant operational benefits for users, and good analyser performance depends on careful specification and maintenance. Effective management of alarms is also critical to plant safety, as a number of high-profile incidents in recent decades has shown.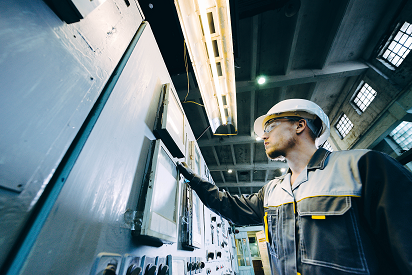 EEMUA is active right across industry in areas such as best practice for the maintenance of on-line analysers, guidance on alarm management and human-computer interfaces, and best practice work on the electrical safety of instrument panels.
Key EEMUA publications include:
EEMUA 191: Alarm systems - a guide to design, management and procurement
EEMUA 201: Control rooms: a guide to their specification, design, commissioning and operation
EEMUA 186: Practitioner's Handbook for potentially explosive atmospheres
Cyber Security:
Industrial cyber security is an essential discipline that focuses on safeguarding critical infrastructure and industrial systems from the ever-evolving landscape of cyber threats. An effective cybersecurity strategy is essential in helping ensure the uninterrupted and secure operation of industrial installations.
In the past, the bespoke nature of control systems benefited from "security by obscurity": They were hard to manipulate because they used proprietary configurations and required specialist training to operate. However, companies are increasingly adopting open systems and protocols. Wireless and remote devices are widely used to access industrial control systems, a trend that is accelerating with developments in the Internet of Things (the IoT) and more ruggedised, portable on-site devices.
Industrial Automation and Control Systems (IACS) are different to conventional IT systems and therefore must be approached differently. It's crucial that the owners and operators of industrial installations stay abreast of good practice in cyber security as well as understanding the differences between IT and IACS, where IACS can be vulnerable, and the specific protective measures they can put in place.
There is also an increasing body of legislation and standards covering cyber security including The EU Network and Information Security (NIS) Regulations 2018, The Data Protection Act 2018, and the ISO/IEC 27000 Family - Information Security Management Systems.
To help members protect their assets and ensure compliant operation, EEMUA offers an Industry Information Sheet on the Cyber Security Assessment Process as well as an awareness-level e-learning module for anyone with an interest in cyber security in an industrial setting.