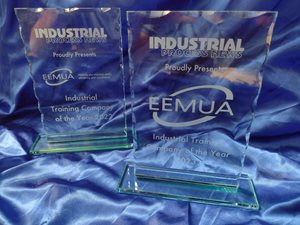 Last year EEMUA was honoured to receive the Industrial Process News Industrial Training Company of the Year Award in recognition of the pivotal role EEMUA has in helping improve the safety, environmental and operating performance of businesses' industrial facilities. Much to our delight, we have won it again.
The core competency of employees, contingent workers and contractors is vital to the safe and effective operation of industrial plant. EEMUA's classroom-based training courses and online learning play a key industry role in developing and testing the knowledge, understanding and competency of workers.
The 2023 award specifically recognises EEMUA's fulfilment of three ambitious blended learning projects at the EEMUA Basic Application competency level (i.e. above Awareness but below Practitioner) – Mechanical Integrity Basics, TankBasics; and Subsea Engineering Basics. The flexible online learning delivery and assessment, and robust certification of the courses means that Learners can be either at their work site or home working and gain relevant, industry accepted competence in a safety critical area.
We are immensely pleased and proud to have been recognised again, but the recognition is shared with the EEMUA membership. Their contributions of knowhow and experience ensure that EEMUA continues to offer and develop training that is 'by industry, for industry'.
You can read more on why EEMUA was selected to receive the award in the article 'EEMUA: Safety, efficiency, and compliance experts' as it appears on page 11 of the June issue of the IPN magazine.